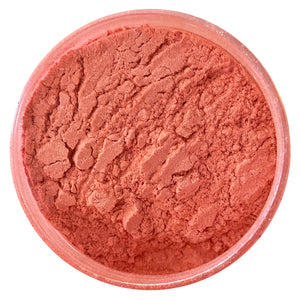 Perfectly Peach
• Solvent and heat resistant. Non-toxic and ideal for crafting and make-up.

• Packaged in 1.75oz (50g) jars. Actual product weight is 1.5oz (43g)
• Particle Size: 10-60 um
• Material: Mica
• Caution Long term inhalation of mica powder may cause lung scarring so please be careful not to inhale product when handling.
Mica is the name of a group of naturally occurring Earth's minerals which are mined from around the world, purified, and crushed into fine powders. Our natural mica pearl pigment is FDA approved and used to add pearlescent sheen, metallic shimmer, or iridescence in a variety of applications that are seemingly endless. You can achieve just about any look with the assortment of colors, styles and sizes and variety. It can be used in many areas such as crafts, car painting, plastics and leathers for an endless variety of looks. Mica is also used in cosmetics to make nails and makeup shiny and sparkly.
Our most favorite use of mica powder is in the application of arts and crafts including tumblers to add color, depth, and texture to help tell a story. You are only limited by your imagination and thought process with the utilization of mica powder to help pull off some dazzling and mind bending effects. Use in combination with alcohol inks, hydro dips and brushed on acrylics to help your designs come to life.
**Colors may appear different from one monitor to the next. Photos and video have been taken to depict the true colors of our products. Inherent limitations with on screen viewing may slightly affect the appearance of the colors but we do our best to ensure that it is as accurate as possible.
---
We Also Recommend
---